Next dates for our tour with Brewstillery Tipsy Tribe
Thursday 6th of July at 6 pm (nearly sold out)
Thursday 24th of August at 6 pm (Belgium Beer Week edition)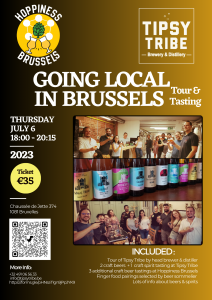 Join us for a tour and tasting experience with Tipsy Tribe Brewery & Distillery and Hoppiness Brussels!
At Tipsy Tribe – the first and only brewstillery in Brussels – you'll receive an exclusive tour led by one of the co-founders. Discover the intricate process behind brewing and distilling, and taste two of their craft beers and one of their craft spirits.
Just a 5 min walk away, you'll find the inviting Hoppiness Brussels tasting room, where beer sommelier Carien will be your gracious host. Experience a selection of three local craft beers, thoughtfully paired with finger foods such as cheese or chocolate. As you indulge in these flavorsome offerings, Carien will share fascinating stories about the multitude of breweries that are contributing to rich craft beer scene in Brussels.
Price: 35 euro per person, comprising the brewstillery tour + 5 beer tastings + 1 spirit tasting.
Booking: https://www.billetweb.fr/brewstillery-tour-local-beer…
Start Location: Tipsy Tribe Brewstillery, Chaussée de Jette 374, 1081 Brussels (walking distance from Simonis/ Elisabeth metro)
Minimum age: 18 years